Land Raider Ares 8th Edition 40k Datasheet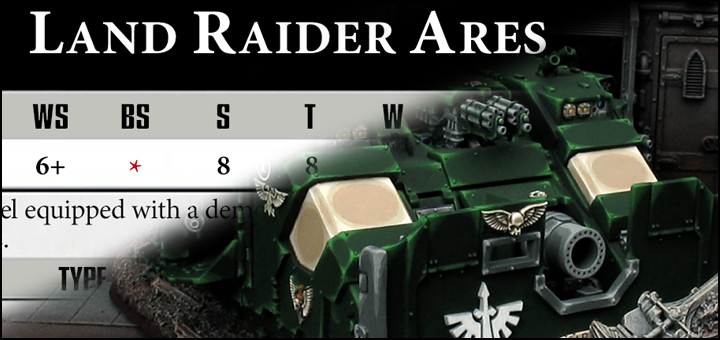 6/24/2017 UPDATED TO VERSION 1.4 PLEASE RE-DOWNLOAD FOR LATEST VERSION. Version number can be found on bottom right of the document.
Change Log:
Ver. 1.4 – Added text "This datasheet can be from any Space Marine Chapter."
Ver. 1.3 – Spelling fixes and added Dozer Ram melee weapon.
Ver. 1.2 – Internal Changes.
Ver. 1.1 – Various spelling and wording fixes.
Greetings Brothers!
Nine years ago, when I was on the Games Workshop Studio Web Team, I created the Land Raider Ares for an article on the Games Workshop website. It was an example of models that players could create for games of Warhammer 40K Apocalypse. People seemed to either love it or hate it, but it will always be dear to my heart as the one thing I created that left a mark on the 40k universe and people still talk about. Unfortunately GW never saw fit to make it "official" outside of the Apocalypse datasheet we put on the website (which is no longer there). It never received any updates for later editions of 40k either.
Well, if anyone has the right to update it, I figure I do, it was my baby to begin with. So here ya go, the Land Raider Ares 8th Edition Datasheet version 1.0 in a PDF with both parchment background and white background versions. It's still not "official" and you will have to get your opponent's permission to use it, but at least in friendly games, most people won't mind.
One of the things I couldn't do on the original, was give it very many options. So I've added some weapons options. It was made before the Redeemer came out and I probably would have used flamestorm cannons had they been around then, but since it started with twin heavy flamer sponson, that is still the default. I also added twin heavy plasma cannons as an option to replace the twin assault cannons because I've always like the idea of it and a hurricane bolter option as a fun alternative for the side sponsons as well. Dozer blades no longer have rules in 8th, but if they reappear later on  in the actual codexes or in Forge World's datasheets, I can add that in later.
I'm not above making changes, so play with it and let me know how it goes. All of my stuff is currently in storage until my family and I can move to a bigger place so I won't get the opportunity for a little while. I will keep the PDF's at the links above and update them if any changes are made and note it in this post.
Also feel free to point anyone to the PDF's that might want them.
Take care
– Bish